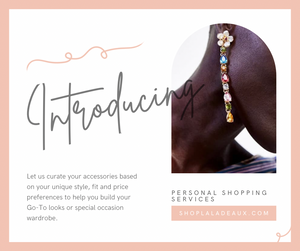 Personal Shopping Experience
Contact us for your personal shopping experience curated by our owner. Our Deaux experts will send pieces from our collection and/or new finds just for you based on your unique style, fit and price preferences.
We're here to help you build around the wardrobe that works for your life! 
*Base fee covers wardrobe build out and will be deducted from final cost. Single item accessories and accessory packages range based on your price preference. 
 Got questions? Need more info? Visit the "Contact Us" section on our home page.