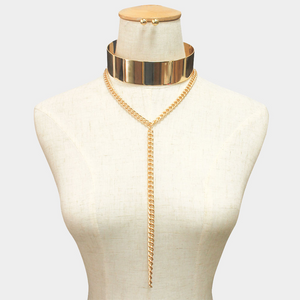 Soraya Metal Choker & Necklace
This chocker and y-layered necklace combo screams sexy! Perfect for date night or dinner in Dubai. We can't choose! 


Choker and y-layered necklace can be worn together or separate.
Chocker Measurements: 11.5" long + 5" thick, 1.3" depth 
Y-Layered Necklace Measurements: 18.5"  + 3" L, 8.25" L

Comes in gold only.